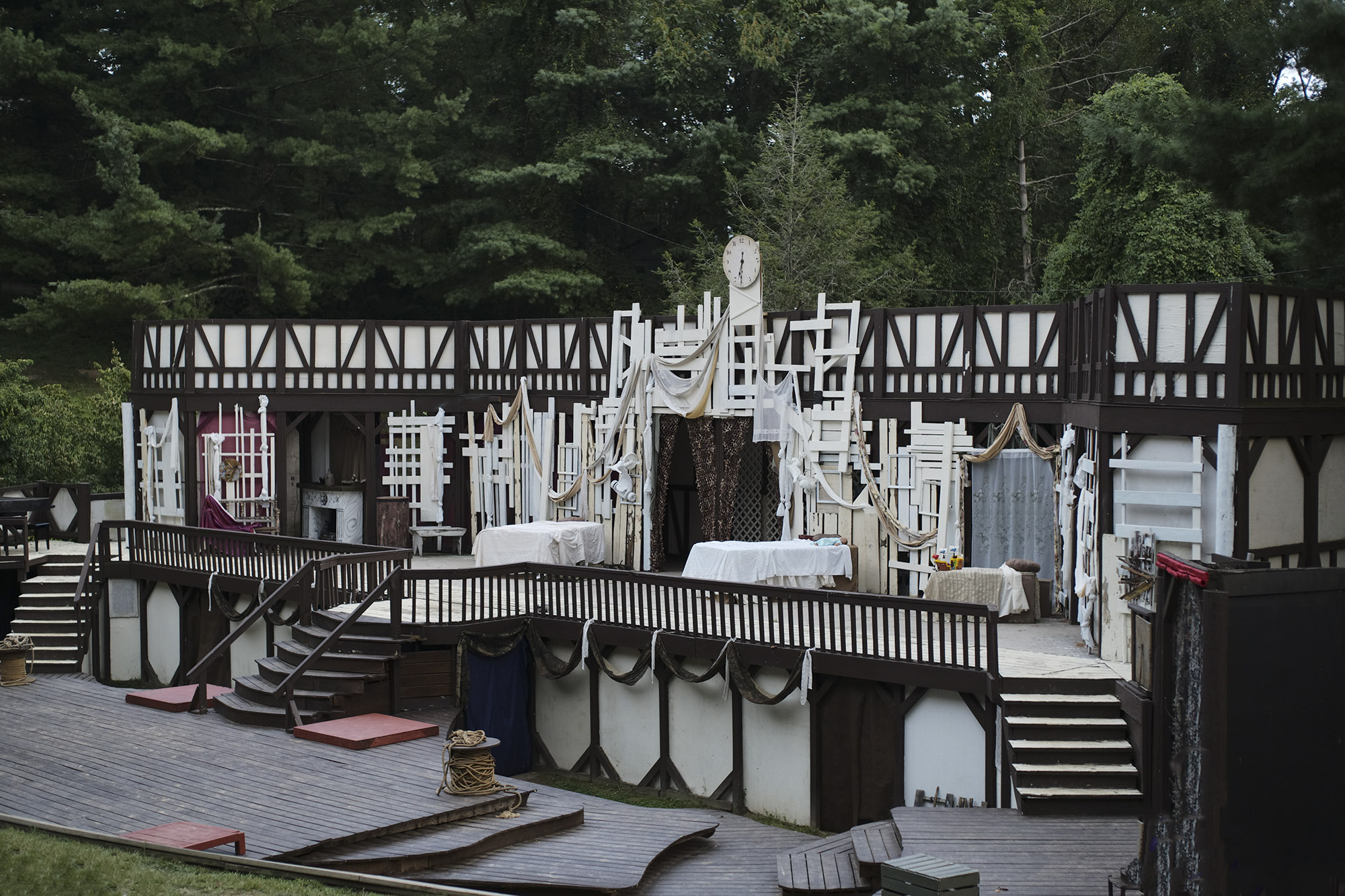 Welcome to Montford Park Players and the Hazel Robinson Amphitheatre!
We want your time with us to be both memorable and enjoyable which is why we have prepared all the important details to plan your visit.
As you scroll down, you'll find lots of helpful information including directions, parking locations, seating info, food and beverage information, as well as some simple rules and regulations.
We look forward to seeing you at the show!
Directions to the Hazel Robinson Amphitheatre
Conveniently located in the heart of the Historic Montford District of Asheville, North Carolina, the Hazel Robinson Amphitheatre is easy to get to and accessible from I-240 and I-26. And, it's just a short drive down Montford Avenue from downtown.
Hazel Robinson Amphitheatre
92 Gay St.
Asheville, North Carolina 28801
If you plug that into your GPS or Google Maps, it will bring you right to the parking lots just outside the outdoor ampitheater.
You can also click, zoom, and scroll within the handy interactive map at the right.
Or, if you prefer, the links below will open up directions for you in a new window . . .
Coming from the NORTH?   Click here for directions …
Coming from the SOUTH?   Click here for directions …
Coming from the WEST?   Click here for directions …
Coming from the EAST?   Click here for directions …
Reserve Your Seats!
While reservations are not required, it's nice to secure the best seats (and even reserve comfortable chairs) ahead of the show. And we've made it easy for you: Click Here to Reserve Your Seats!
Parking
There is plenty of FREE parking at the Amphitheatre, with an upper and lower lot. Additional parking is also available at the Tempie Avery Montford Center on Pearson Drive, AND at the Asheville Chamber of Commerce (36 Montford Ave). Street parking is also available when the lots are full. Since we share the lots with the public park, it is advised that you arrive early on show days.
Seating
Built into a natural hillside, the Amphitheatre can comfortably accommodate over one thousand people. There are seven level tiers, perfect for a picnic blanket or setting up your portable chairs, as well as a lawn above. There are no bad sightlines at the Amphitheatre, but if you prefer to rent our plastic chairs in prime locations for only $5, please reserve your seats above or call the box office at (828) 254-5146. Otherwise, seating is on a first come, first served basis. We ask that all of our patrons show common courtesy to those around them. There is no smoking…anything…in the seating area.
Food and Beverages
Outside food and beverages, including alcoholic beverages, are allowed at the Hazel Robinson Amphitheatre. However, anyone under the age of 21 drinking an alcoholic beverage will be prosecuted to the extent of the local law.
We additionally sell snacks, both salty and sweet, at our concessions stand, and offer a selection of local beers and wine at our tavern. We also have frequent guest vendors that offer a variety of light snack options.
As a 501c(3) nonprofit charitable organization, we rely on private support to operate and will ask you to consider making a gift when you are making your reservations (you can do that here) or at intermission when actors pass the donation bucket.  We accept all major credit/debit cards and also PayPal. Please consider contributing to a wonderful resource available for you in our community.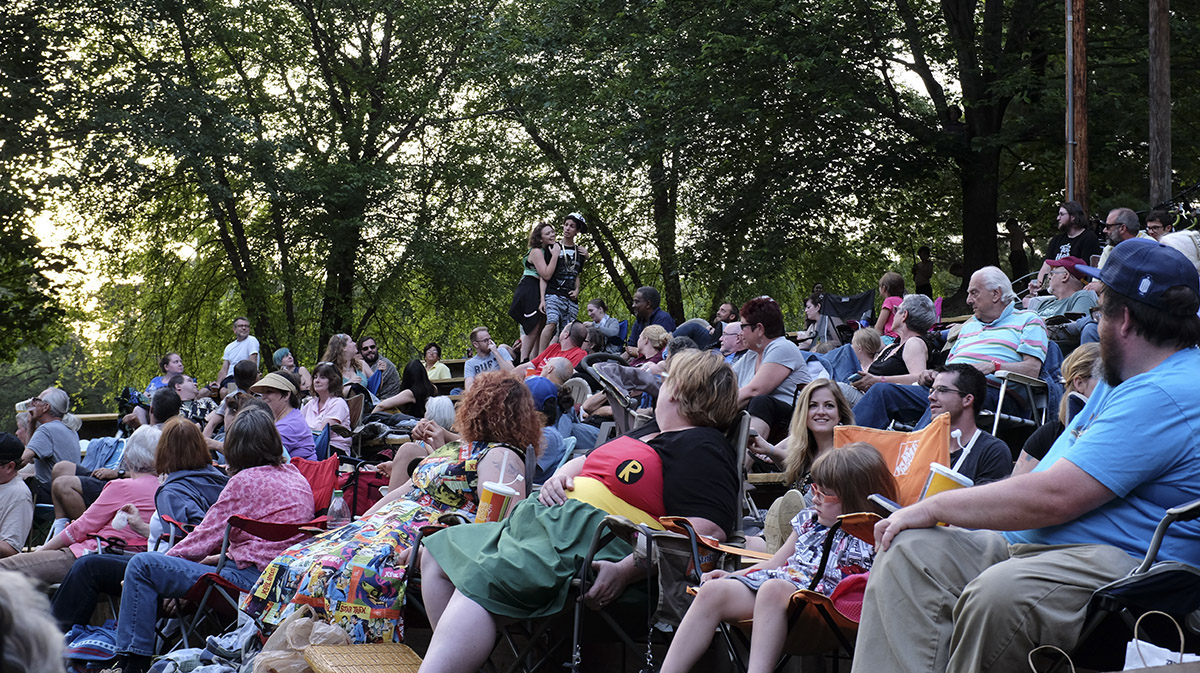 Everything Else You Should Know
Permitted Items:
Chairs or blankets
Umbrellas or rain gear
Bug Spray
Food in sealable containers
Coolers for beverages
Well-behaved pets (and children) on leashes 🙂
Prohibited Items:
Weapons of any kind
Rain Tents
Flash Cameras
A to Z
Admission
Everyone is WELCOME to Montford Park Players' events at the Amphitheatre FREE of charge. In the case of an outside event at the Amphitheatre, the producing organization will determine ticketing and admissions policy.
Alcohol
Outside food and beverages, including alcoholic beverages, are allowed at the Hazel Robinson Amphitheatre. However, anyone under the age of 21 drinking an alcoholic beverage will be prosecuted to the extent of the local law.
Animals/Pets
Well-behaved pets on leashes are allowed on the premises during events. However, ushers may ask owners of poorly-behaved pets (or children) to leave.
BBQs
For the safety of our patrons, BBQs, hibachis, etc. are NOT permitted at the venue or any of surrounding parking areas.
Blankets
Picnic blankets are allowed at the Amphitheatre.
Box Office
Tickets are NOT sold for Montford Park Players' events, as all shows are free and general admission. However questions or seat rentals can be directed to our Box Office at (828) 254-5146.
Chairs
You are welcome to bring your own portable and/or lawn chairs to the show, OR you can reserve one of our premiere lawn chairs here.
Coolers and Picnic Baskets
Feel free to bring your own coolers and picnic baskets to the show. It is advisable that food is kept in a sealed container to prevent insects.
Courtesy
Montford Park Players is a family-friendly theater. Please do your part in promoting a family-friendly atmosphere by showing common courtesy to fellow guests and refraining from using profanity or engaging in unsafe, illegal or offensive behavior.
First Aid
In the case of an emergency, please seek first aid at our concession stand.
ID REQUIRED
ID is required for all patrons who wish to purchase alcoholic beverages (21 and older).
Intoxicated Patrons
Intoxicated patrons may be denied admittance to the Amphitheatre or be asked to leave if they are behaving in a disorderly fashion.
Lost and Found
"Lost and found" is located at the concession stand. MPP is not responsible for items lost, misplaced or stolen at the Amphitheatre. Items will remain in lost and found for thirty days.
Private Vending
Private vending (including selling of tickets) is prohibited within the Amphitheatre parking lot and grounds, unless prior written permission is received from the management.
Recycling
MPP recycles and we encourage our patrons to as well! Recycling bins are located throughout the venue. Please do your part to ensure the beauty of our park by disposing of your trash properly and recycling all plastic and aluminum products.
Restrooms
Are located at the top of the hill, in the building near the ballfield
Smoking/Tobacco Use
Smoking is only allowed in the designated smoking area near the restrooms. This includes electronic/vapor cigarettes.
Tables
Feel free to bring a SMALL table for your food and beverages. However we ask that you show courtesy with how much space it may take up.
Umbrellas
Personal umbrellas are allowed to be brought into the show, but please refrain from using golf or oversized umbrellas. All events are rain or shine, at the discretion of the producer. Alternatively, guests are encouraged to bring parkas or rain jackets in the event of rain so not to impede the view of those around you.
Weather
Events at the Amphitheatre are held rain or shine, however, an event may be cancelled at any time for the safety of the performers, and at the discretion of the producers. During the spring and summer months it is not unusual for large storms to come through in the afternoon and clear up for the evening. We encourage guests to please monitor the weather and dress accordingly. While we prefer you bring a rain coat or poncho, small umbrellas are allowed.