Because of you … BIG things are happening with Shakespeare here in Asheville.
Thanks to you, your neighbors, the community, and thousands of visitors from near and far, the Montford Park Players have been able to provide Asheville with extraordinary performances of Shakespeare and other celebrated stage classics for over 46 years.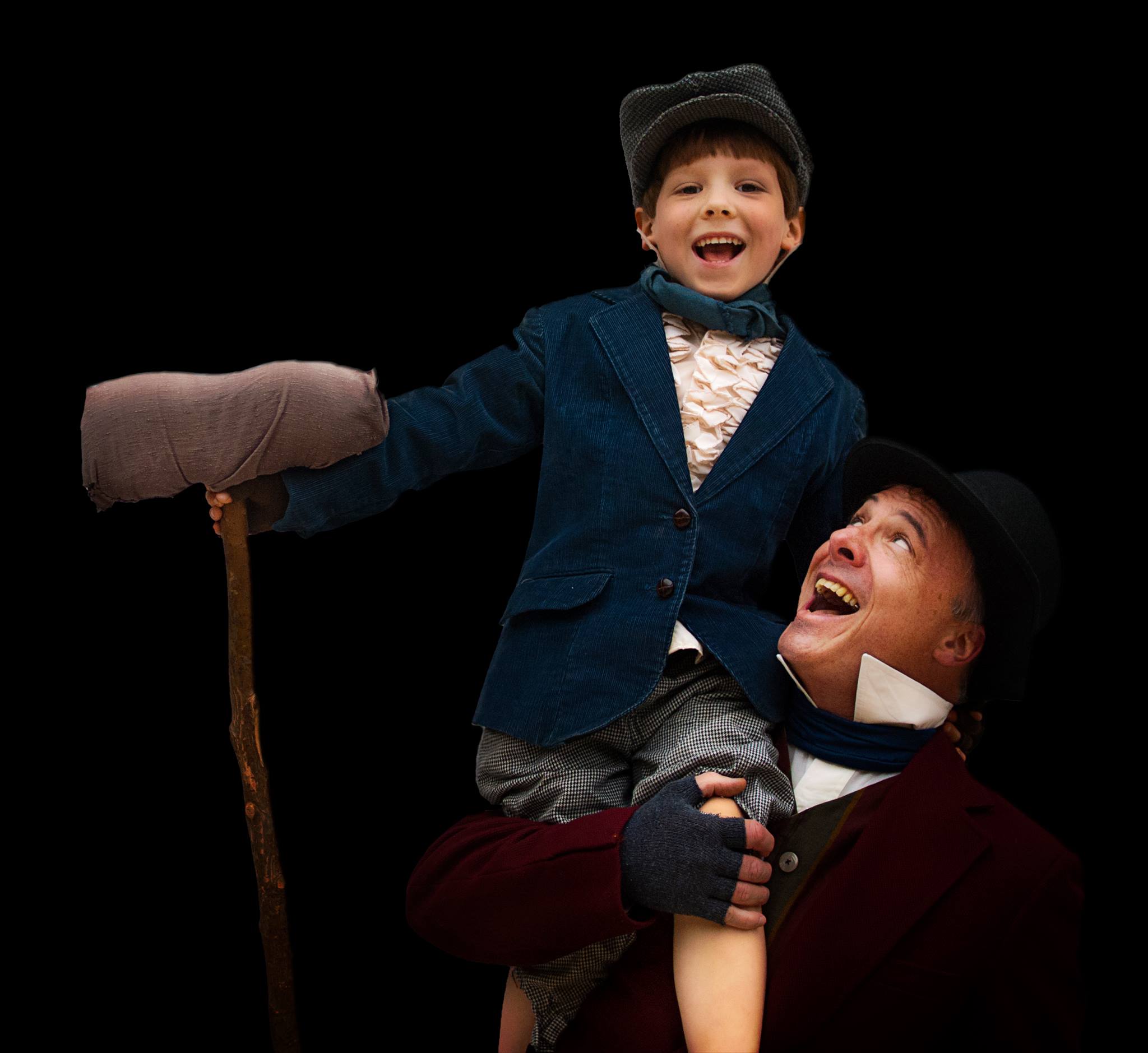 And thanks to your continuing generosity during our performances, at a time when ticket prices for live theater continue to rise nationwide, you have made it possible to continue our tradition of providing amazing theater at NO cost to attend.
Indeed, we have made a permanent commitment to provide our performances for FREE!
However, in order to provide amazing theater at no cost to visitors young and old, from near and far, we count on YOU and your wonderful generosity.
What's more, your patronage not only goes toward maintaining this proud theater but will soon help us expand in a very big, very exciting way — to better serve you in the years to come!
We listened to patrons like you, and as a result we will soon be . . .
Adding handicapped parking for those of you who need easier access to the outdoor amphitheater.
Renovating the seating and adding more rows and chairs for your greater comfort.
Improving the light towers and the sound system to enhance your experience of the shows.
Building a beautiful Welcome Center and Entrance Plaza to add to the overall ambience of our historic venue.
Constructing an entirely new (and truly world-class) stage … because we want to give you the exhilarating stage spectacle you deserve.
And all of this … to make YOUR visits all the more enjoyable and exciting.
Great plans, however, require the assistance of great men and women.
And as we launch this bold, new chapter in the history of the Montford Park Players, we are reaching out to you — as a lover of literature, the arts, and the stage — to step forward with us now and help us bring this shared vision to life.
Your tax-deductible contribution will help us ensure a truly dazzling future for The Montford Park Players, the home of Shakespeare in Asheville.
Our celebrated troupe has been performing for nearly half a century. Help us now expand and confirm our role as the true "Jewel of Asheville," so we can bring you and your friends and your family endless evenings of entertainment and delight across the years to come!
THERE ARE SEVERAL EASY WAYS FOR YOU TO MAKE YOUR TAX-DEDUCTIBLE CONTRIBUTION TODAY:
* By PayPal (or Credit Card)
Perhaps the easiest way to make an investment is through PayPal — either with your PayPal account or with any credit card.
Just click the button below!
* By Check
You can also certainly mail in a check. Our address is given below, and you would simply make it out to The Montford Park Players …
PO Box 2663
Asheville NC 28802-2663
*Gifts of Stock
Did you know you can make a gift of stock to us?  As a 501 ( c) 3 organization all gifts are tax deductible as allowed by law.  Please contact Beth Coakley at [email protected] about making gifts of stock, or you can make your stock donation directly here:
Donate Stock To Montford Park Players Inc.
*Qualified Charitable Distribution
If you are 70 1/2 or older, did you know that a Qualified Charitable Distribution to the Montford Park Players from your tax-deferred retirement accounts may reduce your income tax liability?  Please consult your financial advisor for details.
* By Phone
For any of the investment tiers above $1K, you might prefer to give us a call so we can thank you personally!
Simply call Executive Director John Russell at 828-254-5146
Thank you for your generosity and please feel free to contact us if you have any questions.
ALSO … We Have a Special Investment Opportunity for Potential Business Partners in Asheville.
We're always eager to work with local businesses in Asheville and find ways we can mutually support one another.
The most exciting arrangement (apart from advertising your business in one of our show programs, which go out to thousands of visitors each month) would be to sponsor specific performances . . . or even an entire season!
Sponsor Our Season — $40k
Your tax-deductible donation comes with all kinds of perks! Season sponsorships include a full page ad in every playbill, a shout out in the curtain speech before each performance, your logo included in all of our advertising, and much more.
Sponsor a Show — $2,500
Eight shows to choose from! Most shows run for an entire month. Perks include a full page ad in your show's playbill, a welcome banner with your logo- so all of our guests will know about your generous donation, commemorative tickets and more.
Sponsor a Weekend of Performances — $2k
A sponsorship of a Friday, a Saturday, and a Sunday performance. That's big advertising power for your tax deductible donation! Perks include commemorative tickets and invitations so you can invite all of your friends, clients and customers.
Sponsor a Single Performance — $1k
Perks for show sponsors include a free half-page ad in your sponsored show's playbill, a thank you in our performance speech, and invitation tickets so no one misses your special night. Great for company picnics, customer appreciation events, and day of giving corporate events.
Interested in Becoming One of Our Valued Local Sponsoring Partners?
If you are interested in becoming one of our business partners, please call Executive Director John Russell at 828-254-5146 or feel free to email him at [email protected]
We're eager to get to know you better and have you become part of the excitement . . . joining us on this grand stage!
And Last But Certainly Not Least, If You'd Like to Discuss Advertising In Our Show Playbill, We'd Love to Hear From You!
Please contact Beth Coakley at [email protected] for more details!
And By the Way … Here are Three Even Simpler Ways to Support the Montford Park Players:
First — you can just come to the shows! (And bring your family and friends! Even your dog!) You can bring your own food and drinks or you can grab something right at the show. Just remember that for the best possible seats, you'll want to reserve chairs. (There's a link to do that at the bottom of each show's page here on the site.)
Second — when you do come to a show and you love it (which we're sure you will), mention it to your friends, drop by and say something about the show on our Facebook page, and put it in your calendar to come to another show next month!
Third — did you know that every time you buy something on Amazon, they could be giving a small donation to the Montford Park Players? It's true. You just have to use Smile.Amazon.com instead of the usual link, and choose the MPP as your charity of choice. It's that simple. Here's how you set it up after going to Smile.Amazon.com and after logging into your account …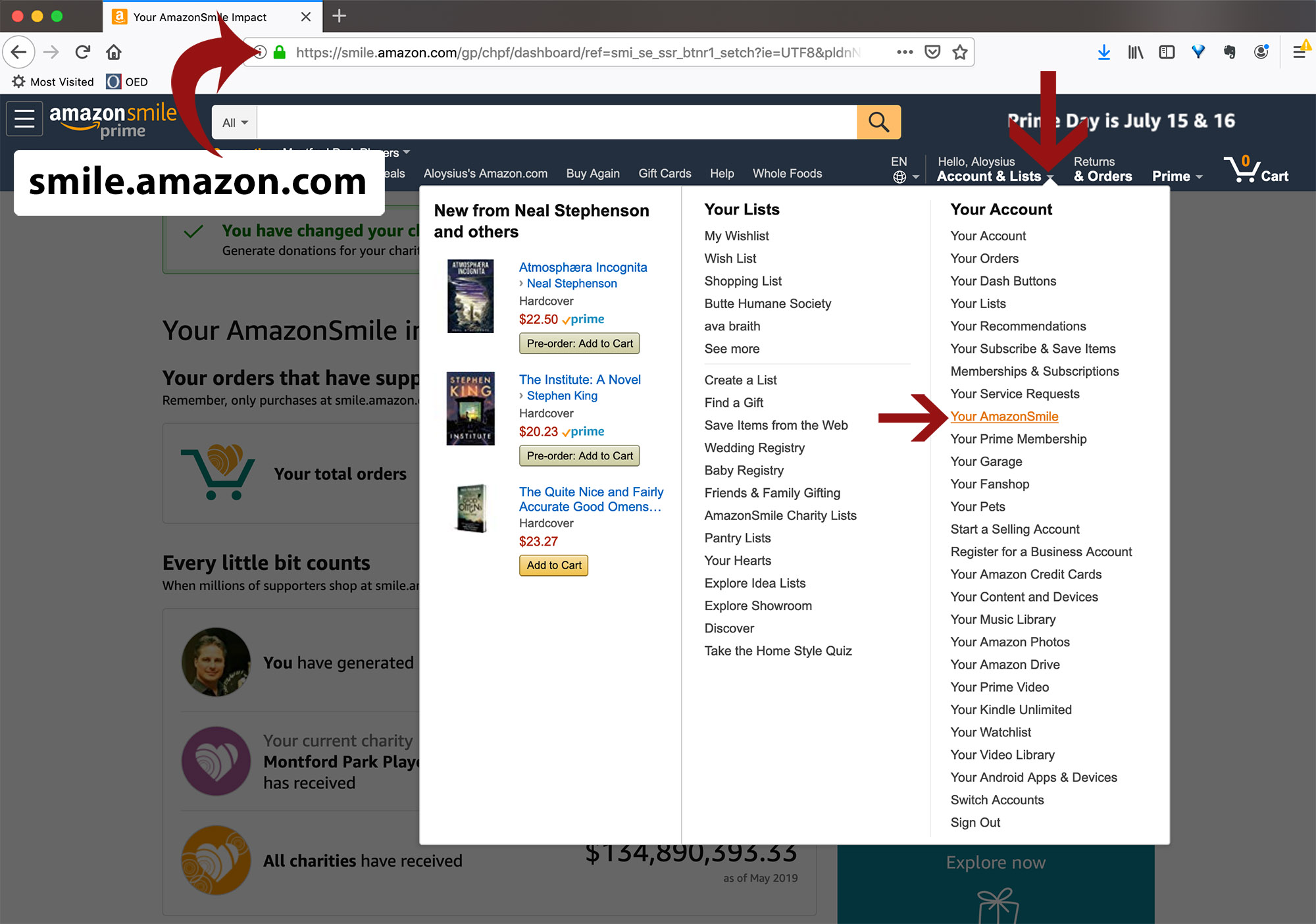 Once you set it up that way in your account, just remember to always use Smile.Amazon.com for your Amazon shopping. It's that easy!