"IN MERRY ENGLAND in the time of old … there lived within the green glades of Sherwood Forest,
near Nottingham Town, a famous outlaw whose name was Robin Hood."

― Howard Pyle, The Merry Adventures of Robin Hood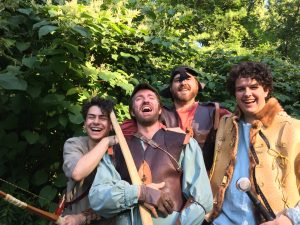 Robin Hood: The Legend of Sherwood,
by Jeff Douglas Messer and Robert Akers
Directed by Michael Lilly
The swashbuckling tale of the famous bandit and protector of the people during the reign of Prince John and the evil Sheriff of Nottingham.
Bring a picnic and join Robin Hood and his merry band! You're in for an exciting evening full of daring exploits. And as always — IT'S COMPLETELY FREE!
Playing Outdoors at the Hazel Robinson Amphitheater
Every Friday, Saturday, and Sunday evening at 7:30 pm
July 6th – August 4th, 2018
— Click here to plan your visit!
Full Cast List:
Julianne Arnall – Marian
Sienna Boyle – Villager
Rose Bruce – Catherine
Paul Clark – Herald/ Villager
Jan Dixon – Soldier
Emmy Frost – Villager
Karley Frost – Villager
Hunter Gall – Villager
Victoria Hadel – Margaret/ Soldier
George Heard – Friar Tuck
Peter Johnson – Villager
Travis Kelley – Little John
Amanda Klinikowski – Anna
Mark Lieberman – Sir Guy of Gisbourne
Rowan Lindsey – Villager
Dakota Mann – Prince John
Ryan Martin – Robin Hood
Rachel McCrain – Soldier 3/ Gilbert
Mars Mignon – Much
David Mycoff – Sheriff of Nottingham
Brendan Nickerson – James
Doug Savitt – Soldier
Jered Schults – Cedric
Kent Smith – Villager
Matt Tavener – Logan
Jorja Ursin – Gertrude
Haven Volpe – Will Scarlet
Andrew Watkins – Villager
Angelica Watkins – Ellen A'Dale
David Watkins – Michael
Mike Watkins – Allan A'Dale
Sofia Watkins – Villager
Join Us for the Show! Every Friday, Saturday, and Sunday July 6 – Aug 4
Click Here to Reserve Your Seats!