Directed by Mary Dillon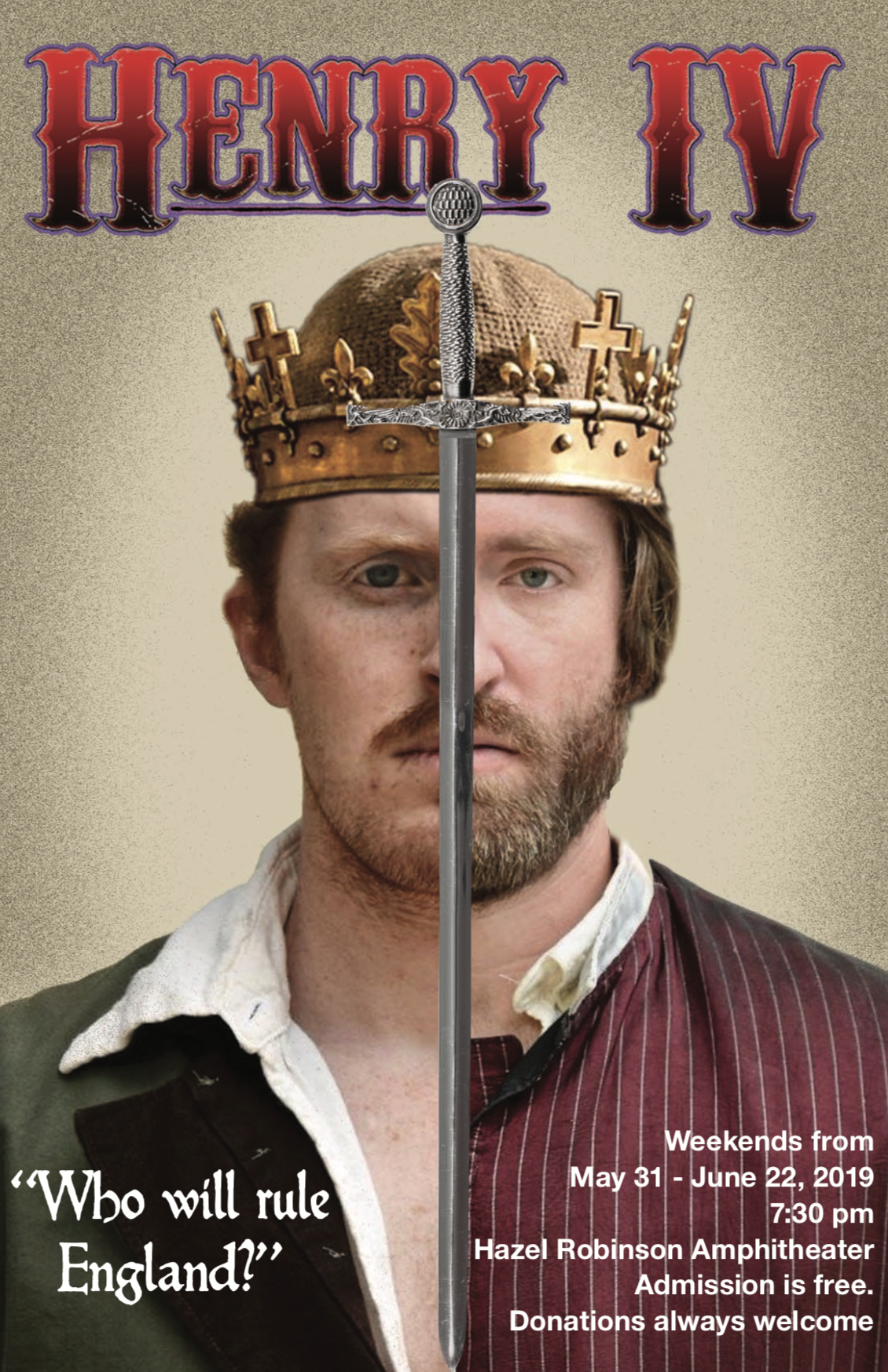 "These signs have mark'd me extraordinary; And all the courses of my life do show I am not in the roll of common men." ― Henry IV, Part 1
Razor sharp wits and swords cross in this crowd-pleasing gem from Shakespeare's canon. 'Heir Apparent" Prince Henry neglects his royal duties to party with tavern ne'er-do-wells, whose leader, the larger than life drunkard, Sir John Falstaff, takes "Hal" under his amoral wing. Meanwhile, rebel leader young Harry Percy, "the Hotspur of the North" acts more like the true prince as he gathers forces to challenge King Henry IV's army in battle. Do you like laughter, action, and political intrigue? Come see Henry IV and Party like it's 1399!
Playing Outdoors at the Hazel Robinson Amphitheater
Every Friday, Saturday, and Sunday evening at 7:30 pm
May 31st – June 22nd, 2019

— Click here to plan your visit!
Bring a picnic (or grab food and drinks at the show), and settle in for an unforgettable evening!
And remember, as always — performances with the Montford Park Players are COMPLETELY FREE!
Cast:
KING HENRY IV
David Mycoff
PRINCE HENRY (HAL)
Jackson Cole
HOTSPUR
Ryan Martin
FALSTAFF
George Heard
WORCESTER/TRAVELER/SHERIFF
Bill Park
LADY PERCY/WENCH/POINS
Lauren Otis
MISTRESS QUICKLY/TRAVELER/GLENDOWER
Emily Sansbury
LANCASTER/BARDOLPH
Zak Hamrick
MORTIMER/GADSHILL/WESTMORELAND
Anthony Antinora
PETO/BLUNT
Kevin Norris
NORTHUMBERLAND/TAVERN TIPPLER
John Preston Mendenhall
DOUGLAS/TRAVELER/SERVANT/MESSENGER
Dakota Mann
VERNON/ TAVERN DRUNK
Haven Volpe
TRAVELER/MISTRESS QUICKLY'S HUSBAND
Roger Dillon
EASTCHEAP BOYS
William Reid, guitar
Brian Emory, bass
Tristan Wicker, mandolin
Jimmy McBrown, drums/percussion
Roger Dillon, harmonica/guitar/vocals
Lauren Otis, vocals
Charlie Wilson, vocals
Crew:
Director – Mary Dillon
Assistant Director – Rose Bruce
Stage Manager – Caitlin Lane
Assistant Stage Manager – Roger Dillon
Costumer – Sandra McDaniel
Set Design and Construction – Dakota Mann
Fight Choreographer – Deanna Braine
Dance Choreographer – Kristi DeVille
Lighting Designer – Jason Williams
Properties – Devyn Ray Villareal
Graphic Designer – Jack Gipson
Scenic Artist – Sally Sweeney Bryenton
Musical Director – Roger Dillon
Join Us for the Show!
Every Friday, Saturday, and Sunday May 31st – June 22nd
Click Here to Reserve Your Seats!