"And flights of angels sing thee to thy rest"
Montford Park Players Says Goodbye to its Matriarch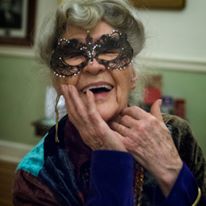 To the right is one of our favorite pictures of Hazel Robinson, Montford Park Players' founder and its biggest supporter for the last 40-plus years. The reason it's one of our favorites is because it expresses the joy that she held for all things theatrical. A joy she shared and gave to so many hundreds who crossed her path.
Hazel was a legend in Asheville theater circles. For many of her ninety years, she trod the boards, finding a love for Classical theatre and Shakespeare, in particular. Her dramaturgical mission was always one that veered toward "community," and many of the people you see today, on the Amphitheatre stage that bears her name, and behind the scenes there, are people who might not have otherwise been involved in theater were it not for her infectious zeal.
Hazel passed away Thursday afternoon, October 20, 2016.
She was a writer, a teacher, an actress, a techie and a friend to all who came within her reach. But her credentials are superfluous to the impact she had on many who needed a place to belong, and 44 years ago she took it upon herself to create that place: Montford Park Players.
This passage itself is but a very small testament to her drive and consistency. At a time when theater was a blip on the Asheville scene, she started a company that would perform free Shakespeare in the Park with nothing but "three boards and a passion," minus the three boards. It probably shouldn't have lasted. And yet, here we are over four decades later. Still free. Still Shakespeare. Still welcoming to all who show up at the amphitheatre and want to be a part of something. This thing. To learn this. To BE this.
Hazel gave us this. And we are this. And we are proud to be this. And we will miss our guide, our teacher, our mentor, our Board Member until the day she died …
We will miss Hazel.